PVC Clipboards Foldover A4
£2.54
A4, PVC foldover clipboards with a cover and inside pocket. Complete with heavy duty clip and pen holder.
SKU:

KF0130
Categories: Educational Supplies, Stationery, Writing Aids
Tags: a4, a4 clipboard, a4 clipboards, black, blue, board, clip, clip board, clip boards, clipboard a4 pvc black, clipboard a4 pvc blue, clipboard a4 pvc foldover black, clipboard a4 pvc foldover blue, clipboard a4 pvc foldover red, clipboard a4 pvc red, clipboards, cover, educational supplies, foldover clipboards, heavy duty clipboards, kf01300, kf01301, kf01302, pvc, pvc clipboards, q-connect, q-connect clipboard, q-connect clipboards, qconnect, red, stationery, writing, Writing Aids
Related Products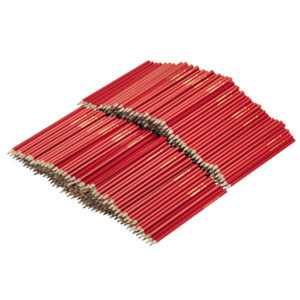 Economy Pencils HB
Standard HB classroom pencils, ideal for writing and drawing. Available with a rubber tip for easy correction. Available in packs of 12 or economical classpacks.
£

0.60 –

£

18.75
Select Options