Tabbed Index Dividers
£1.00 – £2.44
Q-connect premium multi-coloured index dividers to help organise continuous tasks.
SKU:

KF015
Categories: Educational Supplies, Filing, Stationery
Tags: 1-10, 1-20, 1-5, 10 part, 10 part dividers, 20 part, 20 part dividers, 5 part, 5 part dividers, a-z, a-z dividers, a4 coloured dividers, a4 dividers, a4 multi-coloured indexes, a4 multi-coloured tabs, a4 tabbed indexes, alphabetical dividers, card dividers, coloured, coloured dividers, coloured tabbed dividers, coloured tabbed indexes, coloured tabs, divider, dividers, educational supplies, file, files, Filing, index, indexes coloured indexes, jan-dec, kf01518, kf01519, kf01521, kf01523, kf01524, month dividers, multi punched a4 dividers, multi-coloured, multi-coloured dividers, q-connect, q-connect dividers, q-connect tabbed indexes, qconnect, stationery, tabbed indexes, tabs
Related Products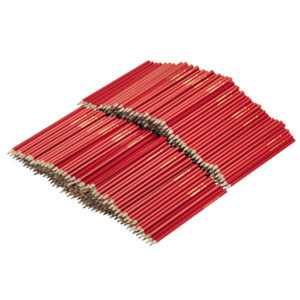 Economy Pencils HB
Standard HB classroom pencils, ideal for writing and drawing. Available with a rubber tip for easy correction. Available in packs of 12 or economical classpacks.
£

1.00 –

£

23.09
Select Options