WASHROOMS
Hygienic Environments
Washrooms in schools are one of the areas with the most traffic during the busy school day. We have been undertaking many projects for toilets and washroom during the past 12 months due to the importance of hand washing, hygiene and easy cleaned areas to keep children safe during the pandemic.
Privacy & Comfort
Washroom area need to be designed to provide children of all ages, especially secondary schools with privacy in mind, these areas are usually of high traffic and children need to feel safe. Well designed layout and facilities give students pride and actually reduce anti social behaviour in these areas.
In this time hand washing is more important than ever. Tiled wall areas, antibacterial surfaces, non touch dispensers, toilet sensors and automatic taps are just some of the ways you can ensure good cleaning while minimising touching surfaces.
Toilets produced for the education sector have to consider both design and functionality. Younger children need supervision so smaller doors which offer enough privacy but convenience for teachers if help is needed. Young children require washroom areas to be safe and fun, so that children learn to use the facilities from a young age and grow to respect them as they get older. High schools and colleges require strong designs as well as safe that are resistant to damage or vandalism.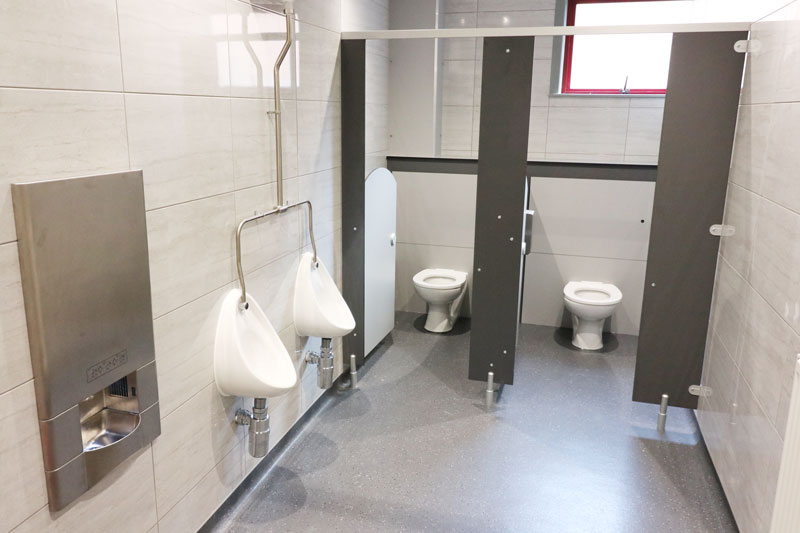 FREE PLANNING
Washroom Regulations
We understand the many aspects you have to consider when designing toilet areas in schools. Sizes of cubicles, disables facilities, location of washbasins, number of basins to toilets etc. Our team will plan and design the area FREE and can even produce 3D visuals so you can see how the finished areas will look.
Call our team on 0800 999 6061 or book a site visit here.