DINING AREAS
CANTEEN SOLUTIONS
Eating areas should be an inviting place, somewhere you can relax, interact and enjoy the space while taking time out to eat and socialise with others. School and college choices of students are made on the standard of facilities and how they feel in these surroundings, so it's imperative that you create a first impression and welcoming environment.
Relaxed dining
Many educational establishments now want a café style experience and not the traditional school dining setups. Colleges and high schools especially are requesting modern, fresh, specious areas for student to unwind. Comfortable in an environment that encourages socialising, communication and well-being.
Solutions depend on the amount of students and space you require and we can adapt any plan to suit. Whether its traditional tables, benching, booths or wall mounted foldable tables, MPS can source and fit any design. We will advise on the products that will provide the best facilities and provide you with the ideal solution.
Consider the age group you are catering for. Primary schools tend to use bench seating mainly due to space and the ability to quickly fold away, as often the dining halls are used for other activities. Older students in high schools and further education prefer individual seating, or perhaps zonal areas which offer an array of different seating options to accommodate the students privacy, in groups, or working lunches.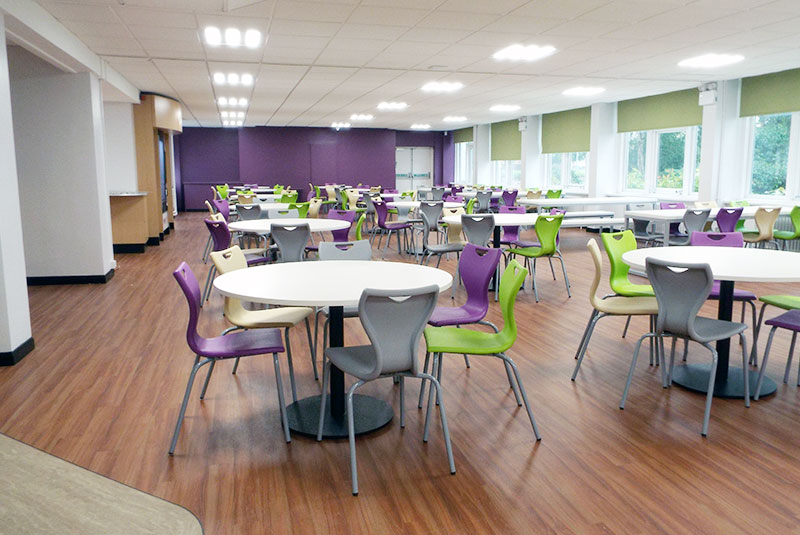 CHOOSING THE RIGHT PRODUCT
The material
Canteen are busy areas and need constant cleaning, so picking products that are hard wearing, easy to clean and hygienic are very important. Wipeable surfaces ideally, or if you choose fabric the best choice would be vinyl to prevent damage to the materials, due to food or spillages.