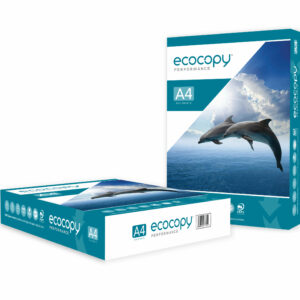 Ecocopy Performance A4 white copier paper
The Ecocopy Performance Copier Paper A4 is a high performance and extremely versatile copier paper, excellent for many of uses in both inkjet and laser printers. This high white paper features a higher number of fibres than other leading papers, guaranteeing stiffness, strength and making it an excellent performer in all fax machines, printers and photocopiers.
Keeping it Clean We all want to keep the environment clean and free from pollution so with Ecocopy we are constantly working to improve our production methods and keep emissions to a minimum.
Water All water used during the Ecocopy production process is subjected to rigorous cleaning, filtering and monitoring processes before being returned to natural waterways.
This ensures that the water is clean and healthy so that the quality of the waterways is maintained and the water life is encouraged to thrive.
Air Careful production methods combined with stringent air quality controls ensure that the air returned to the atmosphere from the Ecocopy production is clean and healthy.
This ensures that the air quality is maintained, providing more healthy surroundings for both wildlife and local people.
Sustainability All wood fibre used in the production of Ecocopy comes from certified, sustainable, farmed forestry resources ensuring that natural habitats are maintained.
£

3.75
Buy Now